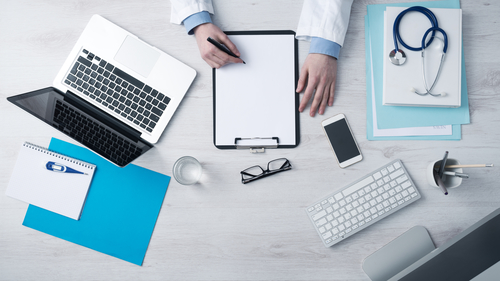 To Superbill or Not To Superbill…That is the question
Focusing on the patient encounter is one of the most critical aspects of your practice. Not only does an encounter that allows for focus and attention on your patient produce the best experience and feeling for the patient, but it also allows for the best possible communication and most accurate diagnosis.
Whether you find that a paper superbill which can easily and securely be shared with your billing service or a robust EHR/EMR integration is the best bet for your practice – the key is to make sure that this process allows for the time and attention to be spent where it counts – with your patient.
While the benefits of an EHR/EMR system are significant, it may be worth considering a system that allows providers to capture the essential details in a paper format and then allow office staff to transcribe this into an EHR/EMR. Patients regularly voice their displeasure with providers who are too focused on their tablet or computer and don't look their patient's in the eye.
Medical Claims Billing is hands on with our practices and we work closely with them to develop an operational strategy to maintain high levels of patient satisfaction while also bringing the best integration of technology to ensure quick, accurate health record and claim creation.
Whether your preference is paper, digital or a combination of both, Medical Claims Billing can help.